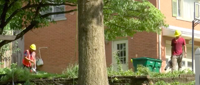 The sound of chainsaws could be heard all throughout neighborhoods in Evansville Tuesday as tree service workers began the clean up process after Monday nights storm.
"The office has been getting a lot of phone calls," said Samuel Price, the co-owner of BT Tree Services. "they said early this morning it was 20 by 9 o'clock this morning."
Crews from BT Tree Services were sent to Hamilton Ave. on the north side of Evansville, an area hit hard by the heavy rain and strong winds.
A busy afternoon, the crew spent most of the day picking up the pieces.
"We are pruning this oak tree right here and making it look a lot better and then we took a dog wood right out over here that was dead," said Price.
Due to the severity of Monday nights storm, the need for tree removal services has increased tremendously and crews are working hard to get the job done.
Although the hard work can be draining on the workers, their efforts are needed as they help many home owners recover from the storm.

Sydney Spencer


Source link

2022-08-03 05:25:34

www.wevv.com