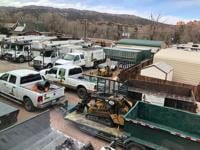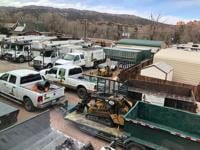 In 2000, Dave and Debi Carpenter, started their business, Tall Timbers Tree & Shrub Service, with just a pickup truck, and themselves as the only employees. Today, they have 32 employees and a fleet of equipment including 22 trucks, six chippers, three stump grinders, and four spray rigs.
Tall Timbers Tree & Shrub Service runs smoothly on a day-to-day basis due to an extensive fleet of equipment.

Libby Kinder

The success of their endeavor has far exceeded their initial expectations. They now have locations in Colorado Springs and Castle Rock.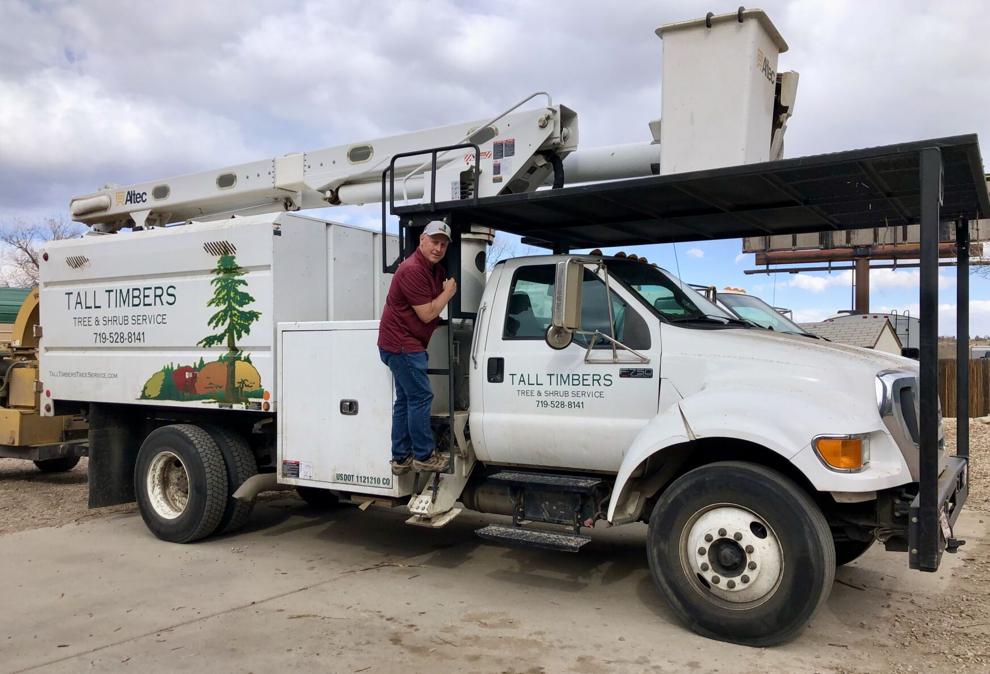 Keeping equipment in good working order is an important piece of ensuring the success of Tall Timbers Tree & Shrub Service. Owner Dave Carpenter checks out one of the trucks.

Libby Kinder, the tribune

According to Dave Carpenter, he and his wife entered into the business with a will to succeed, lots of patience and a view of being present for the long haul.
In the beginning, Dave said, "It was a tough go. I did everything!" Debi took responsibility for the books, billing, payroll and scheduling. She continues these duties today, compounded by the addition of more than 30 employees. Dave continues to be a hands-on business owner, overseeing day-to-day operations.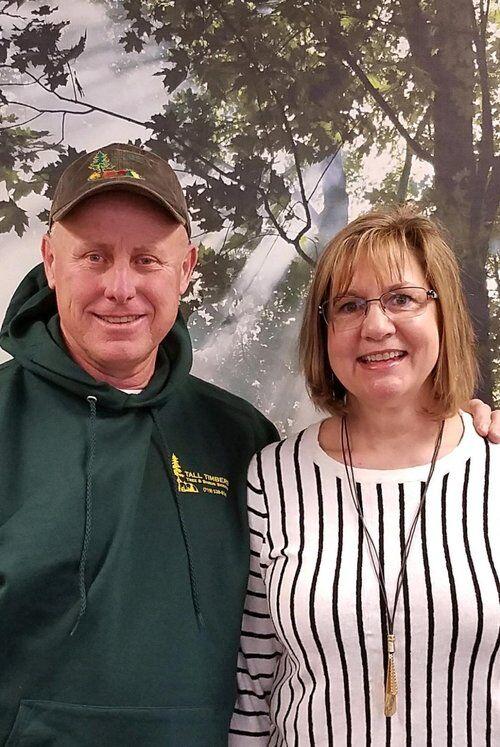 Dave and Debi Carpenter are the owners of Tall Timbers Tree & Shrub Service.

Courtesy of Tall Timbers

As a former sales representative for Davey Tree Expert Company in California, Dave learned the business backwards and forwards. He has a business degree from the University of Northern Colorado, and started working in the tree service industry while he was in college. When plans for advancement with Davey Tree failed to come to fruition, Dave and Debi seized the opportunity to start their own business.
The Carpenters are residents of the Pine Creek neighborhood of Colorado Springs.
They raised two sons as the business grew, and their son, Trevor, has worked in the family business for 10 years. He eventually segued into his current position as the fleet manager.
Son Cory is a San Diego real estate agent.
Tall Timbers is now the premier tree service operation in El Paso County. A wide variety of services are available, including pruning, spraying for pests, cabling/bracing, removal, fertilization and fire mitigation.
Business can often be weather-dependent with occasions of high winds, heavy precipitation and late spring snows that can damage trees.
Top services are pruning for plant health and structural maintenance, preventive spraying for insect control and disease, and fertilization.
The company goal is to not only get trees and shrubs healthy again, but to keep them that way.
Tall Timbers offers free estimates to analyze shrub and tree health and maintenance.
What is the No. 1 service that trees need for survival, yet is too often neglected? Carpenter says people tend to neglect two areas: not watering their trees enough, and not maintaining good structural pruning.
He adds, "It's hard to overwater your trees in our high plains desert."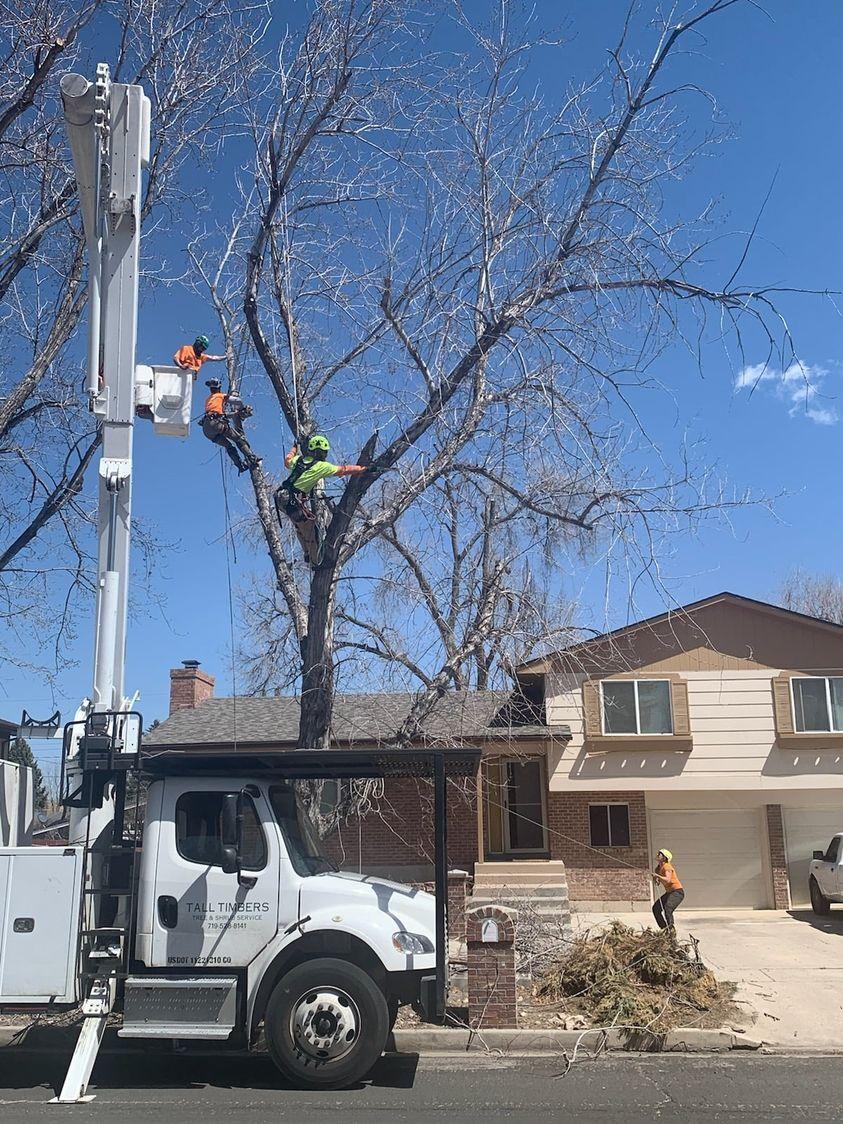 Tall Timbers recently posted this photo on their Facebook page with the caption, "One of our amazing arborist doing some new climber training #teamwork."

https://www.facebook.com/TallTimbersTreeAndShrubService

Spray technicians strive to suppress pests although eradicating them is not possible.
Due to yearly weather changes, pests change over time. There is always a bug of the year. Most people are familiar with the scourge of the mountain pine beetle that has devastated parts of Teller County.
Dave Carpenter advises customers to be on the lookout for critters that can be damaging to plants.
Tall Timbers has been called upon at times to provide some unusual services. Wind and snow load can result in devastating tree damage.
After one storm, a tree had to pulled out of a living room. Also, around 20 cars suffered tree damage.
On occasion a crane is needed to lift heavy trees off of vehicles or homes.
Trees can fall on power lines, houses, vehicles and decks, and into swimming pools.
One time, when a tree toppled into a pool, a crane was brought in. Once the tree was removed, Tall Timbers employee had the difficult and unpleasant job of wading into waist-high water and removing a considerable amount of debris.
Jobs can range from very small to huge.
Dave Carpenter says the one of the smallest jobs he has attended to over the past 10 years is caring for and pruning a single peach tree.
Only one twig remains that bears fruit, and the owner is determined to maintain the tree as long as it is still producing.
The biggest challenge Tall Timbers faced occurred after the Black Forest fire in 2013.
Eighteen acres of what had been heavily wooded property on Winchester Drive had to be clear-cut, including stump removal. Gradual re-forestation is now taking place there.
In 2020 Tall Timbers created the ROE project with a vision to: "Rejuvenate Our Earth, One Tree at a Time."
The program was developed with a focus on the importance of how trees not only benefit the planet, but also human quality of life.
Every month, two trees are donated to residential clients, for example as a memorial or loss replacement.
The benefit of trees to the health and welfare of future generations cannot be underestimated.