But report author and CEDA senior economist Andrew Barker said there were better ways to protect consumers.
Mr Barker said most international research had failed to show that occupational licensing improved the quality of goods and services provided, or that removing these requirements lowered their quality. But enforcing them had clear downsides for competition and productivity because it made it harder "to get the best person into the job based on the skills that they bring, rather than the specific education or credentials that they have".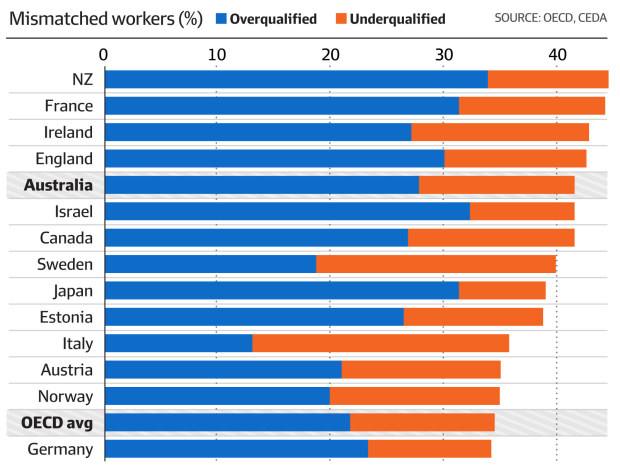 He said setting quality standards for the goods and services provided – rather than setting standards for the professionals providing them – was often a better way to protect consumers because it did not reduce the supply of labour by making it harder to enter a trade.
"By getting more people entering those professions, you can get more competition, lower prices and productivity improvements," Mr Barker said.
He added that "having strict occupational licensing [in Australia] didn't stop a lot of the problems we have with low-quality buildings". His report refers to the continuing problems with combustible cladding, water ingress and structurally unsound roof construction.
Productivity boost
Based on work done by the OECD, which calculated that Germany could boost the productivity of the average company by 1.6 per cent if it reduced its occupational restrictions to match those in Sweden, CEDA estimated that Australia could boost its economy by $5 billion each year by reviewing and winding back its occupational licensing.
"The similar level of occupational restrictions in Queensland to Germany (and in NSW too for personal services) implies similar scope for gains in Australia," the report said, referring to the OECD research.
"Applying this same productivity improvement to the roughly 15 per cent of Australia's economy subject to occupational licensing, the nation could gain up to $5 billion each year from reform to match best-performing countries."
The report added that unlocking the full scale of benefits would involve removing mobility restrictions across all occupations and matching the overall stringency of Sweden's regime by removing licensing of electricians, plumbers and painters.
"More modest reform could still yield billions of dollars in productivity benefits," it said.
Last year, the Morrison government introduced the Automatic Mutual Recognition of Occupational Registrations scheme to allow people to work across state and territory borders without having to apply and pay for a different licence in each state.
The scheme was expanded earlier this year to include more professional registrations and licences, but some occupations remain excluded and Queensland has still not signed up.
In its report, CEDA recommends that the scheme be extended to all states and expanded to include more occupations. It also called for the development of "a process to remove licensing requirements in occupations not subject to restrictions in other states".